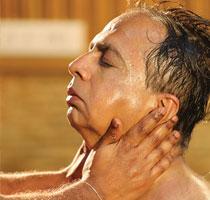 Maharaja Ayurvedic Package
Includes full body Ayurvedic massage, Sirodhara Therapy, Kizhi Therapy, Ayurvedic Face Pack and Herbal Steam. Provides excellent relaxation and rejuvenation.
Duration: 120 Minutes.
Soundharya Beauty Care Package
Includes Body scrub, Body polish, full body Ayurvedic massage and Face pack. Benefits: Relaxes your body and enhances your beauty.
Duration: 120 Minutes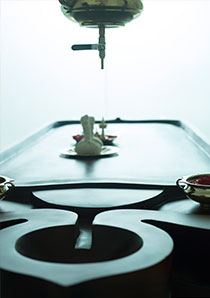 Sirodhara Therapy
This is unique massage of Kerala in which a steady stream of luke warm medicated oil is poured on the forehead in a peculiar pattern. This is done after 30 minutes of basic massage for whole body. Benefits: It is mainly done for relaxing the mind. Very effective for sleep disturbances, head ache, hair problems and skin diseases.
Duration: 90 Minutes.
Podi Kizi Therapy
One of the most relaxing and refreshing massage that you can enjoy. This is a massage with warm roasted leaf bags & 40 minutes of basic massage from head to toe with Ayurvedic oils. This is very good for relieving spam and stiffness of muscles, lubricating the joints, strengthen the spinal muscles and relieves joint pain especially backache. Enhances peripheral blood circulation, cleanses the channels of circulation and expels toxins through the sweat.
Duration: 90 Minutes.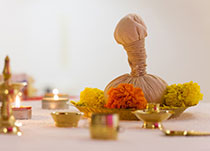 Navarakkizhi Therapy
Massage with Ayurvedic oils for the body is done in the first phase of this treatment. This is followed by massage with warm rice (medicinal rice, Navara) bags dipped in milk and a herbal decoction. Oil massage follows as the next phase. This massage nourishes tissues, softens the skin, enhances complexion, strengthens body muscles, cure the stiffness of the joints, and improves digestive power.
Duration: 90 Minutes
Udvarthanam
Massage with special herbal powder after an oil massage. This is done like a scrub for exfoliation; break cellulite; deplete the fat, strengthens the muscles. Benefits: Removes impurities, dead skin cells and stimulate circulation.
Duration: 60 Minutes
Abhyanga
This is the basic Ayurvedic massage. Experts massage lukewarm Ayurvedic oil from head to toe Proper blood circulation, lymph circulation and give relaxation to body muscles.
Duration: 45 Minutes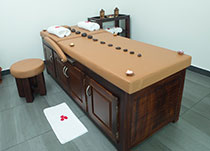 Sugandha Aroma Massage
Full body massage with aromatic creams/oils. Benefits: Provides muscle relaxation and rejuvenated feeling and leaves you refreshed.
Duration: 45 Minutes.
Anti Jet Lag Therapeutic Massage
Includes Special head massage, Face massage. Neck and shoulder massage, care of legs and feet.
Benefits: Provides relaxation to strained muscles, due to long journey, improves blood circulation and helps in providing good sleep.
Duration: 45 Minutes.
OUR SHORT THERAPEUTIC MASSAGES : (Duration of 30 Minutes each)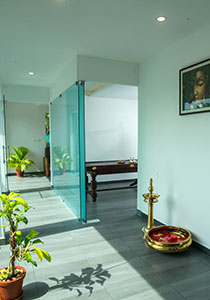 Ayurvedic Head & Shoulder Care
Ayurvedic Legs & feet Care
Ayurvedic Face Care
Ayurvedic Anti dandruff Head Massage
AYURVEDIC TREATMENT PACKAGES :
( Packages are tailor made and are designed to suit the needs of the client and finalised only after consultation with our Ayurvedic Consultant.)
Ayurveda Refreshment Programme
Rejuvenation Therapy
Body Slimming Programme
Skin Care Programme
Stress & Strain Relief Programme
Panchakarma Therapy
Beauty Care Programme
Spine Care Programme